Drako Motors in California has unveiled its first model, the GTE electric sedan. The car took almost ten years to develop.
The design of the GTE electric sports car is reminiscent of the Karma Revero hybrid (former Fisker Karma), although the range of panel connectors is original. The GTE's authors only mention the 'Fisker chassis'.

The body frame and chassis with independent front and rear suspension are taken from the Karma Revero GT. The brake discs front and rear are carbon ceramic with a diameter of 395 millimetres. The GTE also has a sports version Track Edition. It differs from the basic version in that it has adjustable Öhlins racing dampers.

In the cabin, beneath the multimedia screen, there is a panel with four knobs for adjusting the control electronics, stabilization modes, degree of regeneration and power distribution between the front and rear axles.
Drako GTE specs:
top speed – 332 km/h
acceleration to 100 km/h – 3.1 s
horsepower – 1217 hp
power density – 507 hp/t
vehicle weight – 2400 kg
Drako GTE engine:

Each wheel is powered by its own electric motor (synchronous, permanent magnet) and the four engines have a combined output of 1,216 bhp and 8,800 Nm.
Drako GTE battery and range:

Batteries with a capacity of 90 kWh are located under the floor and in the central tunnel. These can be charged from a power station with a capacity of up to 150 kW. The batteries are liquid-cooled with three radiators at the front of the vehicle. The EPA cycle range is 250 miles (ca. 402 km)
Drako GTE 0 – 100:
The car can accelerate to a hundred in 3.1 seconds
Drako GTE top speed:
The Drako GTE has a top speed of 332 km/h.
Drako GTE interior: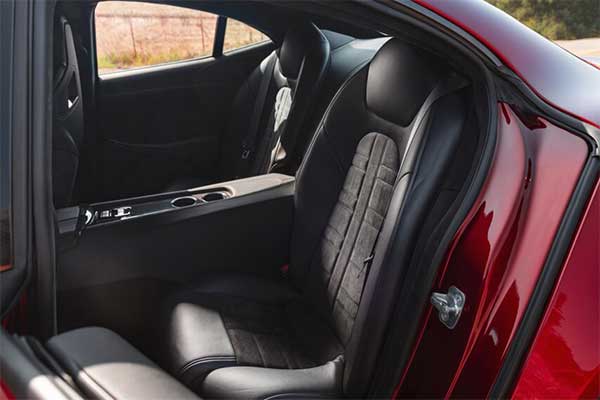 Drako GTE price (Drako GTE for sale):
The car is available from $1250000