The Rivian R1S is a 7-seat electric crossover based on the same platform as Rivian's other model, the R1T electric pick-up.
The Rivian R1S has a brutal exterior with vertical low and high beam units. A 'wraparound' light cluster is conspicuous at the rear. The rear door of the SUV is two-leaf with a small flap that allows you to have a picnic, if necessary.

The vehicle has an overall length of 5,040 mm, a width of 2,015 mm and a wheelbase of 3,075 mm. The SUV weighs 3.5 tonnes curb weight and is capable of pulling a trailer of similar weight. The Rivian P1C uses a double wishbone suspension at the front and a multi-lever design at the rear. Adaptive dampers and air springs are included as standard equipment. Declared ground clearance is 205 mm, and with off-road mode activation it can be increased up to 365 mm. All this allows storming fords up to one meter deep and drive up to 45 degrees slopes.
Rivian R1S specs:
top speed – 200 km/h
acceleration to 100 km/h – 3.2 s
horsepower – 700 hp
vehicle weight – 3500 kg
Rivian R1S engine:

The new Rivian R1S is powered by four electric motors with a total output of 407, 710 or 764 horsepower. Each of the electric motors is responsible for turning a separate wheel and has an independent control unit. This enables traction vector control and the simulation of a differential lock.
Rivian R1S battery and range: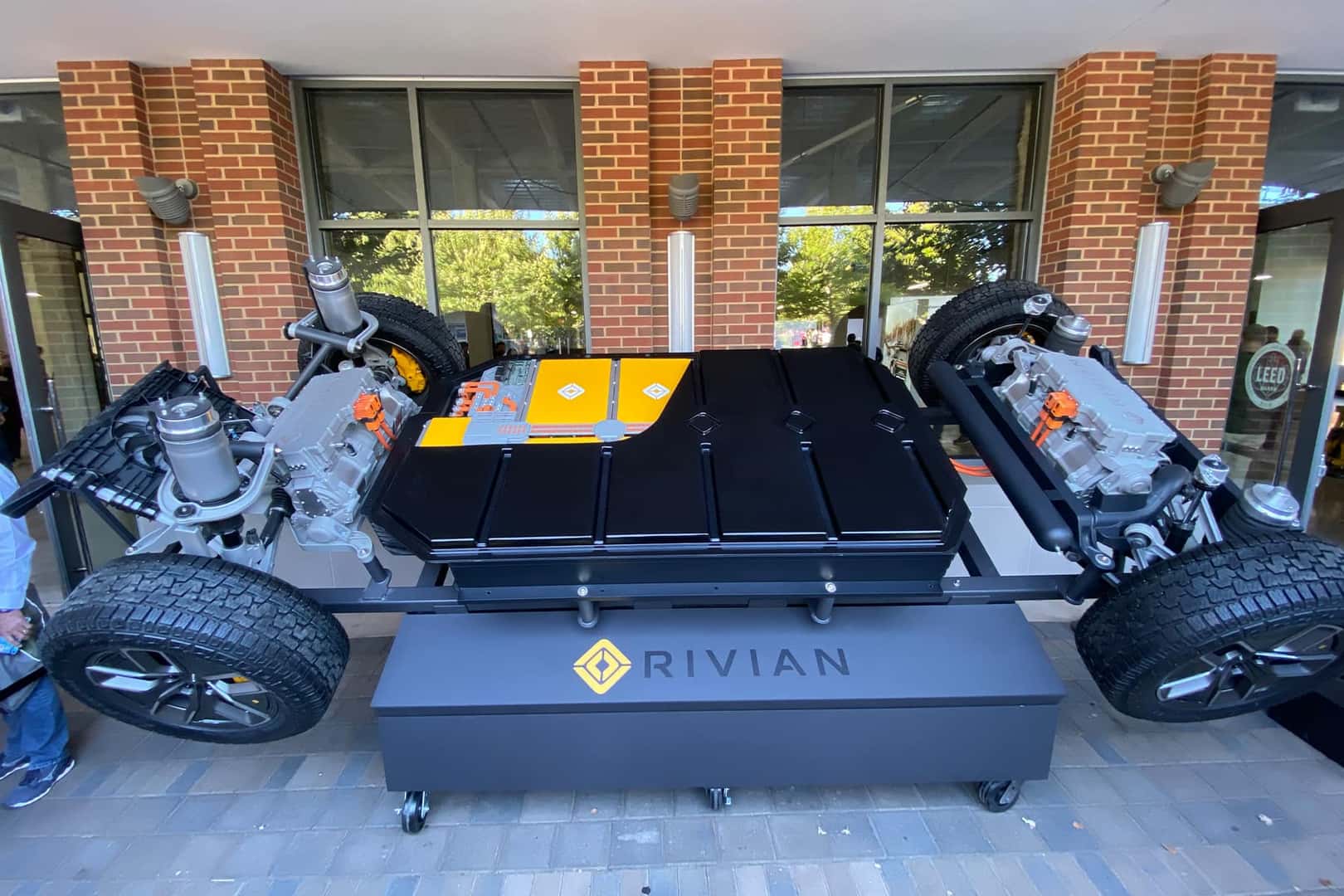 The top-end variant gets two batteries with a combined capacity of 180 kWh, where an additional unit is placed in place of the 3 rows of seats. A single battery charge should be enough for 660 kilometres. The battery can be recharged from a 'fast' terminal, which has a capacity of up to 160 kW. In 30 minutes of charging, it can cover a distance of 320 km. The cheapest version, on the other hand, will have a battery pack capacity of 105 kWh.
Rivian R1S 0 – 100 (Rivian R1S 0 – 60):
The claimed acceleration time from 0 to 100 km/h is 3.2 seconds.
Rivian R1S top speed:
The top speed is recorded at 200 km/h.
Rivian R1S interior:


On the centre console, there's a huge touchscreen display that allows you to adjust and customize all the available functions. No analogue controls can be found inside, apart from the seat adjustment keys. Behind the three-spoke steering wheel, American engineers have placed another screen that supports touchscreen controls.
It acts as a dashboard, although it can also display a wide variety of data. There is no full tunnel inside. Instead, there is a tall organizer and an armrest with cup compartment inside.
Rivian R1S price (Rivian R1S for sale):
The car is available from €72000.