The world premiere of the Lotus Eletre crossover was held in March 2023. The first Lotus electric crossover came to the market in three versions – the basic Eletre, the intermediate Eletre S and the top Eletre R.

Overall length of the crossover – 5103 mm, width with traditional exterior mirrors – 2231 mm (with cameras instead of mirrors – 2135 mm), height – 1630 mm on 20-inch wheels (on 22- and 23-inch wheels – 1636 mm), wheelbase – 3019 mm. The volume of the main boot is 688 litres with a three-seat rear sofa (611 litres with two separate seats in the second row), with a folded three-seat sofa – 1532 litres. The volume of the additional front boot is 48 litres.

The Lotus Eletre will be produced at the company's new plant in Wuhan, China.
Lotus Eletre specs:
top speed – 258 km/h
acceleration to 100 km/h – 4.5 s
horsepower – 612 hp
power density – 233 hp/t
vehicle weight – 2625 kg
Lotus Eletre engine:
In the two entry-level versions, Eletre and Eletre S, the car is content with a single electric motor with an output of 603 hp (450 kW), while the older Eletre R has a transmission with two electric motors with a combined output of 905 hp (675 kW). The torque value also varies: while in the first two cases it reaches 710 N‧m, in the latter it rises to 985 N‧m
Lotus Eletre battery and range: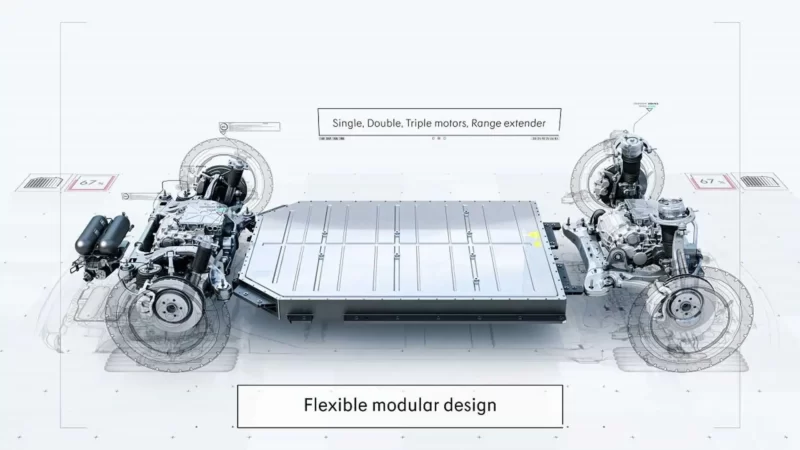 All three versions of the crossover are equipped with a 112 kW‧h traction battery, and while the first two have a range of 600 kilometres on the WLTP cycle, the older version is limited to a range of 490 kilometres due to its more outstanding dynamic performance and increased weight.
Lotus Eletre 0 – 100 (Lotus Eletre 0 – 60):
Acceleration from 0 to 100 km/h takes 4.5 seconds.
Lotus Eletre top speed:
The top speed reaches 258 kilometres per hour.
Lotus Eletre interior:

The interior features advanced diode lighting inside and out, door closers, interior air quality control system, 2160-watt KEF Reference audio system with 23 loudspeakers.

The multimedia system of the crossover runs on its own operating system Lotus Hyper OS, based on the 3D Unreal Engine game engine, smooth operation is ensured by two powerful Qualcomm 8155 processors.
Lotus Eletre price (Lotus Eletre for sale):
The car is available from $130000.