Almost 20 years ago, tuning house Brabus embarked on an ambitious project to transform the Smart compact roadster into a serious tuner car with a turbo-six under the bonnet.
Since the V6 Twin Turbo takes up virtually the entire volume of the engine compartment as it consists of two three-cylinder power units, the fuel tank has been relocated to the front of the car, taking up almost all the space in the luggage compartment. The rubber-moulded fuel tank holds 50 litres.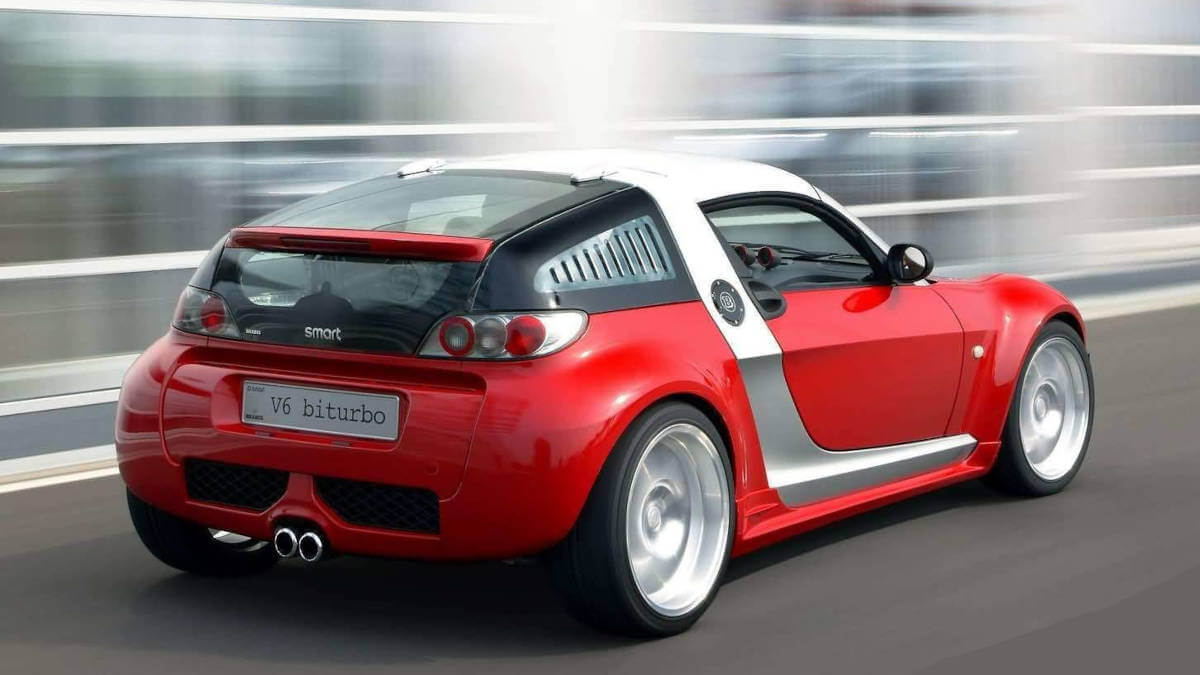 A wide front spoiler and side sills, two exhaust pipes, a pair of side 'flaps' and two small black deflectors attached to the sides of the front bumper enhance the exterior's swiftness. Polished five-spoke alloy wheels measuring 6Jx17 at the front and 8Jx17 at the rear are shod in Michelin Pilot Sport tyres measuring 205/40 R17 and 255/35 R17. To avoid the overly traditional Smart's silver-and-black colour scheme, the body is painted bright red from bottom to top.
Smart Brabus Roadster Coupe V6 BiTurbo specs:
top speed – 225 km/h
acceleration to 100 km/h – 5.8 s
horsepower – 170 hp
power density – 202 hp/t
engine volume – 1396 cm³
vehicle weight – 840 kg
Smart Brabus Roadster Coupe V6 BiTurbo engine:

At the heart of the 'Mega Smart' is a V6 170hp turbo engine, created from two Smart three-cylinder engines joined at an angle. The engine is a true work of technical art with a modified underside, a four-bearing crankshaft and an upgraded cylinder head. The lubrication system, twin-spark ignition, turbocharger, throttles, and electronic multipoint injection are taken from the standard three-cylinder engine. That said, the 1,396cc V6 is only 30 kg heavier than Smart's standard three-cylinder engine. Its power cut-off is at 5,500 rpm, with a maximum "healthy" torque of 159 Nm "located" between 2,150 and 4,450 rpm. Equipped with a sequential five-speed automatic transmission.
Smart Brabus Roadster Coupe V6 BiTurbo 0 – 100:
The Roadster Coupe can reach a hundred in under 6 seconds
Smart Brabus Roadster Coupe V6 BiTurbo top speed:
And its top speed is also impressive at 225 km/h.
Smart Brabus Roadster Coupe V6 BiTurbo interior:


Inside are racing bucket seats trimmed in Alcantara red and bright red belts. The gearshift knob surround, toolbox, door handles and centre console panels are painted the same bright red as the car's body.
Smart Brabus Roadster Coupe V6 BiTurbo price (Smart Brabus Roadster Coupe V6 BiTurbo for sale):
The car is available from $400000.