The Alfa Romeo 4C is a mid-engined sports car that was produced in Italy, at Maserati's Modena plant, from 2013 until 2019.
The two-seater coupe was based on a carbon-fibre monocoque, with aluminium sub-frames and composite exterior panels. In 2015, an open-top version of the Alfa Romeo 4C Spider with a removable roof appeared.
The body length is just 3,989 mm, the width does not go beyond 1,864 mm and the height is limited to a modest 1,183 mm. The wheelbase of the Alfa Romeo 4C is 2,380 mm.

The Alfa Romeo 4C sports coupe comes equipped with the redesigned Alfa DNA traction control system, which in addition to the familiar Dynamic, Normal, and All Weather modes, now has an additional Race mode that enables the car to realize its racing potential to the full.
Alfa Romeo 4C specs:
top speed – 258 km/h
acceleration to 100 km/h – 4.5 s
horsepower – 240 hp
power density – 268 hp/t
engine volume – 1742 cm³
vehicle weight – 895 kg
Alfa Romeo 4C engine:

The coupe is powered by a 1.75-litre turbocharged four-cylinder engine, located in the base. The engine is borrowed from the Giulietta Quadrifoglio Verde hatchback, but has a new aluminium block and specially designed intake and exhaust manifolds. On the Alfa 4C, it develops 240 hp and 350 Nm, and the thrust is transmitted to the wheels of the rear axle via a dual-clutch robotized transmission.
Alfa Romeo 4C 0 – 100:
Acceleration from 0 to 100 km/h takes 4.5 seconds.
Alfa Romeo 4C top speed:
The top speed reaches 258 kilometres per hour.
Alfa Romeo 4C interior:

The Alfa Romeo 4C sports coupe gets a 2-seater saloon, featuring a modern racing interior with distinctive details – bucket seats, an ergonomic driver's seat with easy access to all controls and a sports steering wheel.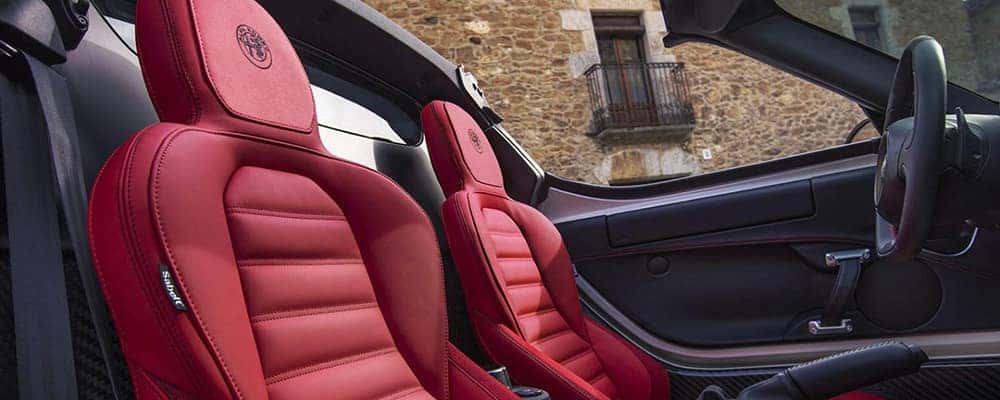 The ultra-modern 'features' include a fully digital dashboard that displays data on its screen according to the chosen driving mode and simultaneously changes the backlighting for each, creating an individual image and preventing the driver from confusing anything.
Alfa Romeo 4C price (Alfa Romeo 4C for sale):
The car is available from €60000.